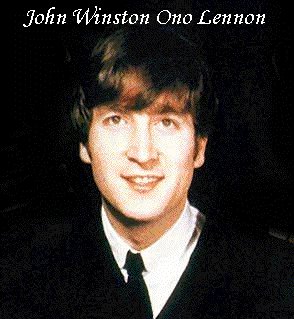 The second-eldest Beatle was born John Winston Lennon on October 9, 1940 in Liverpool, England. His mother, Julia, was a auburn-haired beauty who had once worked of a cinema girl. Father Alfred was a merchant seaman who was frequently away from his family. Even when Alf was given leave from the historical White Star Line (the same line the ill-fated Titanic had cruised on), he didn't bother to come up to Liverpool to see his growing son. By 1943, Alf and Julia's marriage was essentially over.

In 1945, Julia found herself a common-law husband in waiter John "Bobby" Dykins and the two would go on to have two daughters, Julia and Jacqui. Mimi, though, was not pleased. She eventually got the Liverpool Social Services to hand over custody of five year-old John to her, but there was yet another snag in the living arrangements when Alf reappeared that same year. He took John on holiday to Blackpool, a resort, and was planning on taking him permanently to New Zealand. Julia appeared at the resort for her time, though, and Alf demanded an answer to the difficult question: "Who would you rather stay with?" John chose Julia, but he got aunt Mimi instead.

His rebellious attitude landed him in hot water at school, where he first got kicked out of infants' school and eventually came very close to having the same thing happen in high school. His behavior only worsened following Julia's death in a car accident when he was sixteen. He finished, but hadn't managed to pass his "O" levels -- the UK equivalent of SATs. With much persuasion, Mimi was able to con the headmaster into giving him a chance at the Liverpool Art College. John excelled at art and all things creative, but was nonetheless a restless student. It was art school that he met his first wife, Cynthia.

Cynthia Powell was a gentle, mild-mannered girl from the suburb of Hoylake who John took a supreme interest in. The two were even able to keep their relationship together while John and the band took off for Hamburg, Germany. Upon his return in August 1962, right before drummer Pete Best was replaced by Ringo, Cynthia announced to John that she was pregnant. "It's okay, Cyn," he consoled her, "we'll get married." They did so the following week, and son John Charles Julian, named after John's mother, was born on April 8, 1962.

The happy couple and their son moved into a deluxe estate, "Kenwood," following the Beatles' meteoric rise to stardom. Cynthia was indeed very keen on settling John down into suburbia, but to no avail. Their marriage went from bad to worse, but, as John once said, "it was never unhappy. Just boring." He met artist Yoko Ono at the Indica Gallery in 1966, but they didn't pair up until later. Upon her return from a Greece vacation 1968, Cynthia found Yoko wearing her bathrobe and drinking tea in her living room. She immediately fled; a divorce from John was granted in August 1968.

Now a free man once again, John began to live the wild life in London that he had always craved. He used drugs more heavily, including heroin, and he and a pregnant Yoko quickly became hooked. In late 1968 he and Yoko's Montagu Square flat was raided by the London police and got them into serious trouble. They were fined heavily but John, fearing Yoko would miscarry the baby, pleaded guilty. Yoko miscarried several days later. Their loss of the baby only seemed to make them stronger as in March 1969, only 12 days after Paul married Linda Eastman, they tied the knot in Gibraltar.

Following the breakup of the Beatles, John and Yoko became political activists in America and continued to make music. Several avant-garde albums did not sell well, but John's classic Imagine LP was a huge hit. Its title track is now considered one of the best songs of all time. In 1974, however, he and Yoko's marriage was on the rocks. After taking up an affair with assistant May Pang, he moved to Los Angeles in what he called his "lost weekend." He drank heavily. In February 1975, however, Yoko took him back. Their son Sean Taro Ono Lennon was born on October 9, 1975, John's 35th birthday.

After the near-fatherless upbringing that Julian had experienced, John was determined to be there every waking hour for Sean. He baked bread, woke up to feed the baby, took him on walks in Central Park, and was dedicated as could be. He even began to make contact with Julian, now in his teens, once again. When Sean reached five years-old, however, he decided it was time to make music again. Double Fantasy was released in 1980 to decent reviews and good sales. It all came crashing down, however, on December 8, 1980, when John was shot and killed by a derranged fan outside of his New York City apartment building.

Today, John's legacy continues to thrive. Julian became a successful singer in his own right in the '80s, while Sean has also been dabbling in his father's footsteps. In 1995, the three surviving Beatles reunited and used two of John's demos, "Free As a Bird" and "Real Love," to make "all-new" Beatles recordings. Considered a musical genius and political activist, John is one of the greats of our time.



in memory of john winston ono lennon

9 october 1940 - 8 december 1980