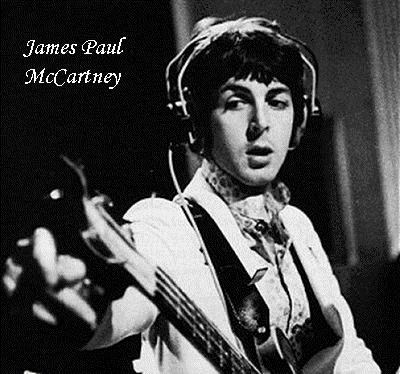 The famous Beatle known for his writing of "Yesterday" was born humble as James Paul McCartney on June 18, 1942. Mother Mary was a community midwife, while father James made a living as a cotton salesman and amateur musician. James made very little money on his own; Mary provided mostly for the family by making more money and getting a house with her job. The family moved several times when Paul was little, especially following the birth of Paul's brother Peter Michael in 1944.

When Paul was thirteen, however, his stable homelife was shattered. Mary had been complaining for weeks of breast pain, but refused to get any medical help. Paul once stumbled upon her crying while touching her breasts, saying hail Marys in hopes that the pain would go away -- but it didn't. She died just weeks after the pain got serious while on the operating table. James McCartney was left to raise two adolescent boys in his meager salesman pay. Luckily, like in John Lennon's family, Mary's sisters came to the aid of a frazzled Jim. The boys were well taken care of.

Paul knew what he wanted to do with his life, and therefore hit the books hard. He passed his "O" levels with flying colours and landed a spot in the Liverpool Institute, rather than the place where the less academically inclined Liverpudlians like John Lennon went, Quarry Bank. He made a decision that he wanted to be a teacher, but following Elvis' landing in the UK charts, his mind drifted. He completed school, but never looked back on becoming a teacher.

When the Beatles became famous, Paul was the first to indulge in the bachelor lifestyle, going out to clubs every night, making friends with avant-garde artists, and enjoying some female company. His first serious girlfriend was Jane Asher, a stage actress and regular member on the BBC show "Juke Box Jury." The two began dating seriously in 1963, but by 1967 their relationship was in hot water. Jane was intent on keeping her career and performing in plays all over England, while Paul's rigid upbringing made him more keen on the two getting married and having children, with Jane staying home. Despite the problems, on Christmas Eve 1967 Paul proposed and Jane accepted. There was no announcement of when the wedding would take place . . .

. . . but it would never take place. One spring day in 1968, Jane came home to discover Paul in bed with Francie Schwartz, an assistant at Apple, at their St. John's Wood home. She immediately fled, but Paul seemingly had no regrets. In June Jane announced to the world that their relationship was over. Paul's infatuation with another woman -- photographer Linda Eastman -- had just begun. The two began taking each other seriously by early 1969 when Paul went for a stay in New York City with Eastman and her small daughter from a previous marriage, Heather. Eventually, they decided to tie the knot, and did so on March 12, 1969.

The Beatles' breakup depressed Paul most of all. Despite the fact that Linda gave birth to daughter Mary in August 1969, and that the couple was making music with albums McCartney and Ram, he was still in a hole. He slept most of the day, drank "a little too much," and just didn't care. He wasn't even sure if he wanted to continue with music. Luckily, though, he found a way to make music again. This time with a new band: Wings. While awaiting the birth of second daughter Stella Nina in September 1971, McCartney prayed for her to come "on the wings of an angel." The name stuck, and Wings was born.

Wings was highly successful throughout the 1970s, and the McCartney family added a final member in September 1977, a baby boy they named James Louis. But by the end of the decade Paul's infamous love of marijuana got him in hot water with the law and managed to break up Paul and Linda for the first time ever. Upon the band's entry into Japan for a tour in early 1980, Paul was busted for a large bag of joints in his suitcase. He was held in jail for three days before finally being released. Wings was over. Paul became a solo artist for the first time in his life, but managed to do rather well without his backing band.

Paul suffered a very hard blow in 1998 with the death of wife Linda. Even harder was the fact that Linda passed from the same disease that claimed his mother in 1956 -- breast cancer. Although crushed, Paul has now bounced back by campaigning for the removal of landmines throughout the world with his new girlfriend Heather Mills. Paul McCartney had made himself rock's favorite elder statesman, and hopefully will be around for years to come.