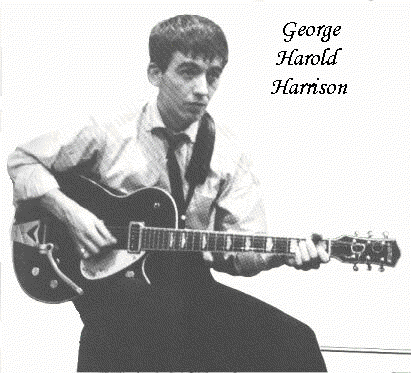 The youngest Beatle, George Harold Harrison was born on February 25, 1943, at 12 Arnold Grove, Liverpool. His mother Louise was a former grocery assistant who had quit her job to be a housewife, while father Harold made a living as a seaman when George was born, then in his later years became a bus driver. The Harrisons were a happy, social couple, known to be some of the best ballroom dancers around Liverpool. Son George inherited their creativity. At age three, he says he remembers singing the song "On Top Of Spaghetti" at the top his lungs in the family living room.

At 12, George first learned of the guitar. His mother Louise, always supportive of her children's endeavors, bought him a cheap one from the father of a school friend, with a hollowed out cupboard as the body. George graduated to better guitars as he got into his teenage years, and on the way to school one day met up with another music fanatic, Paul McCartney. The two quickly became inseperable and started to jam with each other in the Harrison living room. Father Harold, however, was not pleased with his son's path and when George failed his O-levels, Harold landed him a position as an apprentice electrician. George often skipped work.

The Beatles' newfound fame led them into yet another creative venture: a movie. During the filming of their first, A Hard Day's Night, in 1964, George met Pattie Boyd, a model and potato crisps girl. Although Pattie was resistant to George's advances at first, the guitarist was persistent. On New Year's Eve 1964, George proposed, and they were married on January 21, 1965.

George managed to snag critical and commerical success with his 1970 triple-LP All Things Must Pass, which landed him two major hits: "What Is Life" and "My Sweet Lord." Years later, he was accused of plagarizing "My Sweet Lord" from the Chiffons' song "He's So Fine," and ended up having to pay their record company. His marriage to Pattie became more and more strained throughout the 1970s following George's fanatical following of Indian religions. He was not allowed, as a full-blown member of the church, to have sex for pleasure, only for reproducing. When it was found that Pattie was unable to have children, their marriage ended in divorce.

On August 1, 1978, George became a father with the birth of son Dhani. The mother was Olivia Arias, a secretary for his record company, Dark Horse. The two wed on September 2, 1978 and have been married since. In the 1980s, George's career perked up with his huge hit "Got My Mind Set On You" and the successful album Cloud Nine. Like Paul, though, he longed for a group again, and formed the superstar band the Travelling Wilburys by the end of the decade. The Wilburys ended indefinitley, however, following the death of member Roy Orbison.

The late '90s and beginning of the millennium have seen hard times for George. On December 30, 1999, a crazy fan broke into his Oxfordshire estate Friar Park, and proceeded to stab him in the chest once, while hitting Olivia over the head with a lamp. Son Dhani was also on the grounds but was not hurt. Last year, the man was tried but convicted to nothing following a mental examination. He disclosed to the press in 1998 that he was suffering from throat cancer, and lump from his neck was removed. His condition worsened in 2001 and he was admitted to the hospital once again as the cancer came out of its two year remission. "It reminds that you anything can happen . . . that's the nature of life," he told a tabloid in 1998. While anything can happen, Beatle fans are praying for the restoration of Geroge's good health.