GLEEB> the independence years




The Independence Years

Needless to say, Don Kirshner was fired from The Monkees project weeks later.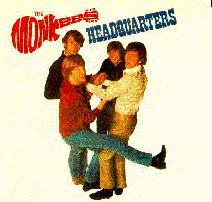 HEADQUARTERS

1967

First LP without stamp of Kirshner's supervision. Recorded wholly in May 1967 while the TV show was on hiatus. In early May, Davy was still flying to NYC to record for Kirshner, but that ended by the end of the month. One of the songs Davy recorded at this time, "You Can't Tie A Mustang Down," was released in 1997 through Rhino's Flashback label. First album produced by Douglas Farthing Hatlelid, aka Chip Douglas.

SINGLES: none. "A Little Bit Me, A Little Bit You" b/w "The Girl I Knew Somewhere" released in advance of LP. Those songs weren't included on the LP. "Alternate Title (Randy Scouse Git)" b/w "Forget That Girl" was released in many foreign countries, including England.

Headquarters was all that The Monkees wanted and more. Their music was finally done on their own terms. Feeling as high as a kite (between success and drugs, they definitley were), they released their baby to the public. Evern though they played everything, except a cello and french horn, on the album, the criticism was a mainstay. Even more discouraging, though unsurprising, Headquarters was only in the Billboard #1 spot for one week before The Beatles' legendary Sgt. Pepper's Lonely Hearts Club Band came out. Talk about a cruel blow.

Headquarters held the teenyboppers' attention, but that was that. With The Beatles' first album in over a year now out, The Monkees experienced a popularity dropoff. Older girls were more interested in a song about LSD than "Forget That Girl." Still, they remained strong. For the new album needed for the holiday season of 1967, they delivered.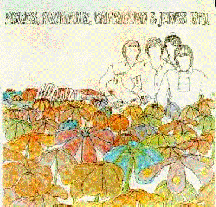 PISCES, AQUARIUS, CAPRICORN, AND JONES LTD.

1967

Recorded in Hollywood in only four days. "Don't Call On Me" recorded in summer of 1967 in Nashville by Michael and a private band. Considered one of the best Monkees albums. Michael played guitar on most tracks, Peter played piano or bass; Davy played on none of the tracks and Micky played drums on only "Cuddly Toy." Released at the height of the guys' hippiedom.

SINGLES: "Pleasant Valley Sunday" b/w "Words," the second Monkees records to miss #1 ("Little Bit Me" being the other one"). Reached #3.

The Monkees' fall had begun. On March 25, 1968, the final new
Monkees
episode aired on NBC (see
Mr. TV Man
). Without exposure on television, record sales, which at become sluggish with
Headquarters
, plummeted. It didn't help that their next album was extremely inaccessible, even with the inclusion of "Daydream Believer." The idea was simple: each guy would conceive and record their own personal songs
a la
The Beatles' White Album. But the Monkees are no Beatles, even if they were pretty darn close. The end result was.. well, this:

THE BIRDS, THE BEES, AND THE MONKEES

1968

First LP with producing credit of "The Monkees" (Chip had been fired at this point). Davy and his songwriting co-horts did their usual sappy love songs, Micky stayed with most of the company writers, Mike used some excusions from Nashville, and Peter was unrepresented. First Monkees album to miss the #1 spot by hitting #3 and going only platinum.

SINGLES: "Daydream Believer" b/w "Goin' Down." Although "I'm A Believer" is considered the guys' biggest single commercially, "Daydream Believer" is probably better-known. Reached #1. "Valleri" b/w "Tapioca Tundra." Mike once desecrated the A-side as being "the worst song ever made." It reached #3

Birds Bees was far from the united process that Headquarters has been less than a year earlier, and it was becoming apparent to Hollywood, as well as the guys themselves, that the Magical Monkee Machine was sputtering to a halt. Colgems made a big mistake when they decided to release "D.W. Washburn" b/w "It's Nice To Be With You" in mid-1968. The A-side, sung by Micky, was an R&B song that was hard to get with, and made the single reach only #19. Another commercial disaster followed months later: HEAD premiered in November 1968 to a less than enthusiastic crowd in NYC, and it's companion soundtrack didn't do any better.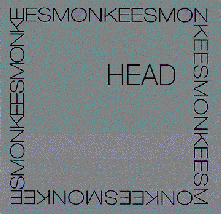 HEAD

1968

Released late due to a manufacturer's problem with the cover (mylar ain't easy to reproduce, folks). Included only six songs with snippets of dialogue from the movie fitted in between. Contained the most Peter songs of any album. Assembled by Jack Nicholson. Major controversy: Peter, especially, was upset when Michael's studio version of "Circle Sky" was included on the LP instead of the group's dynamic live version. Michael claims he has no idea how that happened.

SINGLES: "Porpoise Song (Theme from HEAD)" b/w "As We Go Along." Charted at #32, the first Monkees' single not to reach the top 10.

HEAD was the final straw for Peter. In December 1968, he announced, without much fanfare, that he was leaving the Monkees, leaving only Micky, Mike, and Peter. His official press reason was exhaustion, but secretly, he yearned for the guys' days as a "real band," like during the Headquarters sessions. When he realized that would never happen again, he didn't feel the need to stick with the band. His final Monkee project, "33 1/3 Revolutions Per Monkee," did not have an accompanying album.