GLEEB> season one




season one

From September 12, 1966 to April 21, 1967, the first season of The Monkees was the talk of the town. This was before the drugs, before the debauchery, and before the secret marriages. For the time being, they were just good little boys. Michael Nesmith was cast as the band's leader: very smart, very witty, dry in his humour. Micky Dolenz was the epitome of contemporary Marx brothers with his funny slapstick and imitations. Peter Tork was a Huntz Hall-type character, always the dummy and always wrong in everything he does. And Davy Jones was every girl's dream -- not only was he British, but he had looks to rival Beatle cutie Paul McCartney!

James Frawley, formerly of the Second City improvisation troupe, helped the guys loosen up and learn how to not always follow a script. Even though Micky seems the most talented in "being loose" today, Frawley says that he was the one who had the most trouble, since he had been a serious actor used to reading from scripts. Also appended to several of the episodes that teenagers tuned into every week were spontaneous interviews with the guys: Mike does a card trick with some camera filters and changes his name to Lauren St. David, Micky gives his best imitation of Davy and gives his thoughts on the Los Angeles riots, Peter talks about his hippieness, and Davy talks about his brother-in-law. Although some second season episodes featured these little tidbits, most were in the first season.

The Monkees wrapped production on their first season in April 1967 to record their first "real" album, Headquarters. Little did all the screaming teeny-boppers know that not only were their boys going to change drastically over a five-month hiatus, but they were getting very discomforted with the way the TV show worked.

NOTED EPISODES

"Monkees At the Circus"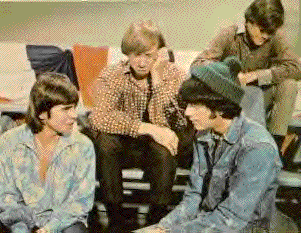 Though not the best of episodes, "Monkees at the Circus" is noted because it was the highest rated national episode of the entire series. Its share of 22.0/33.3 shows its tremendous popularity-- though that couldn't put it in the number one slot. An infamous event at Chasen's (I guess that'll have to be covered in another tour) kept the show from being showed in a lot of major markets, including some New York networks. Either way, the only really humorous thing in "Monkees at the Circus" is the humming of a certain theme song by Micky. When Mike asks him what it is, he passes it off as an old big top theme. Well it is: the theme to Micky's '50s TV series Circus Boy.


"Monkees at the Circus" clip
(76k)

"Monkees On Tour"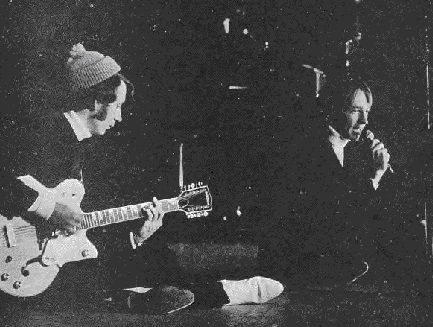 One of the two Monkees' "reality" episodes. Filmed on location at a Phoenix, Arizona, concert in January 1967, "Monkees On Tour" is a fascinating look into not only the Monkees' lives, but the lives of a celebrity in general. Cameras followed the guys around from their arrival in Phoenix at night, to their entire day spent in the city, and finally to the concert itself that night. Interspersed with hectic and barely audible concert footage are videos and sound bites of Peter, Micky, Mike, and Davy's thoughts on fame. Meanwhile, there's also some strange stuff going on.. Davy plays with a swan for an hour, Mike tries to make out with a mannequin, Micky decides he's not going to wear any boots on a horse ride, and Peter is giving the difficult duty of waking a snoring Micky up.


"Monkees On Tour" clip
(194k)