GLEEB> '60s wives



Phyllis Ann Barbour Nesmith

Phyllis Barbour. The very first Monkee wife. First off, how can you NOT like this woman? She's attractive, a good mum, and she put up with Mike for 10 years. 10 years is a lot of time, especially considering this is
Mike
we're talking about here. If you couldn't tell, Phyllis is my favorite. Heck, one of my AOhell SNs is PhyllisNesmith. It's just disgusting.

Birthdate: July 30, 1946 in New York City

HOW THEY MET: At San Antonio College, 1964. Phyllis was three years Mike's junior. Mike proposed after they had gone out a couple of times; Phyllis refused. After several months, though, she changed her tune and they were married on March 16, 1964.

THE KID(S):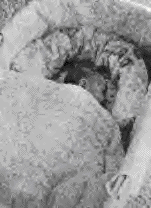 Christian DuVal Nesmith Jonathan Darby Nesmith Jessica Buffler Nesmith

born January 31, 1965 born February 4, 1968 born September 10, 1970

Things you may not know about our beloved Phyllis:

1) She sang backup on "Auntie's Municipal Court"

2) She has three siblings, not one as is widely mentioned: Bruce, 2 years her junior; Christopher, 4 years younger; and Joan, about 9 years younger

3) When Phyllis was pregnant with Christian, she and Mike referred to him as her "abdominal bump"; when he was born they called him the "human baby"

4) Phyllis' skirt was robbed by a bunch of eager girls when she was shopping on London's fashionable Carnaby Street in 1967

5) Phyllis left Mike in 1968 after finding out about his affair with Nurit Wilde. She and Christian and Jonathan lived in Texas for nearly a year without Mike.

6) She was in a major car accident in mid-1968, driving Mike's new Lamborghini off of Mullholland Drive. Due to her Christian Scientist beliefs, she was never hospitalized, and has a large scar on her right cheek.

Samantha Juste Dolenz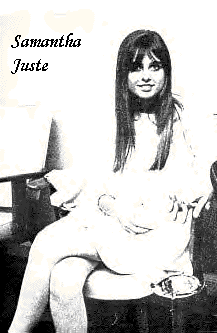 Samantha Juste was pretty cool, except the snooty British model aura followed her around everywhere. There've been some pictures I've seen of her looking really cute and vunerable and nice, and then there are others -- like the one at left -- where that snootiness is raging.

Birthdate: May 31, 1943 in Manchester, England

HOW THEY MET: Samantha was hosting Top of the Pops, the English response to American Bandstand, while the Monkees were popular, so, of course, the Monkees stopped there. Micky became smitten with her after seeing her in the comissary at the TV studio. They were married July 12, 1968.

THE KID(S):


Ami Bluebell Dolenz

born January 8, 1969

Factoids about Samantha:

1) Her real name is Sandra Slater.

2) She and Phyllis were supposedly going to open a boutique (a response to Davy's, perhaps?) called Two of a Kind. Whatever happened to that idea?

3) Sammy was engaged at the time she met Micky (just like Cynthia Lennon).

4) She wrote several articles in 16 magazine with such scintillating titles as "The Monkees & Me" and "The Monkees' Visit to the UK."

Dixie Linda Haines Jones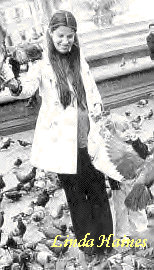 Linda Haines was loathed by quite a few little girls in her time, but she actually turned out to be pretty groovy. While I didn't like Linda very much when I first read about her, she's gotten to be a rather interesting figure in the history of the Monkees. And no, I do not love her more than Phyllis. And what was she smoking when she named her kid Sarah Lee?

Birthdate: (unknown) in Rawley, CA

HOW THEY MET: Linda was working for a tour agency in Hawaii when the Monkees played their first concert there in 1966, and she was invited to a welcoming party for the guys. They were "married" twice: once 4 weeks after the birth of Talia in October 1968, and later in December 1968 formally.

THE KID(S):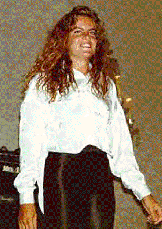 Talia Elizabeth Jones Sarah Lee Jones

born October 2, 1968 born July 3, 1971

Linda brain droppings:

1) In the later years of her and Davy's tension-filled marriage she would introduce herself as "Linda Haines Jones. And this is my husband, David."

2) Davy fooled her into thinking that some chickens they bought were actually laying eggs.

3) She and Davy were afraid to go to Peter's house for fear of a mass orgy. And besides, they didn't like to get nekkid like Peter did.

4) Linda majored in art design at the University of Hawaii for one year before dropping out.

5) She has three siblings: Jimmy, Susie, and Janet

6) Ms. Haines dated Monkees stand-in David Pearl before starting her relationship with Davy.

7) Linda talked about a divorce from Davy backstage at the 1975 Grammys and Davy said it was all or nothing, divorce or marriage, no seperation. Linda replied "Okay, my birthday's coming up. Why don't you get me a divorce?"

Reine Stewart Thorkelson


Coming soon.