GLEEB> michael nesmith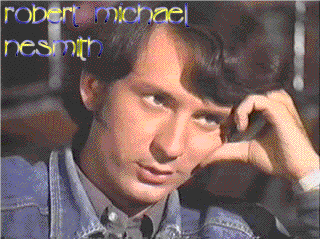 The hotheaded and indeed hot guitarist of the Monkees was born Robert Michael Nesmith on December 30, 1942, in Dallas, Texas. The son of a hard-living high school dropout, Bette, and a strict army sergeant, Warren, Michael nearly immediately became part of a broken family. Warren deserted his wife and young son when Michael was only a few years old. Bette was forced to make ends meet by working as a secretary at a bank. When Bette's father died, she inherited some land in an all-black part of Houston, where she and her son went to live. As a child, Mike fell in love with music, most notably Latin bandleader Xavier Cugat and R&B/rock 'n roll pianist Chuck Berry. In his preteens, while playing with friends, Michael accidentally slammed a sledgehammer on his right hand. To regain dexterity in his fingers, Michael took up the guitar. High school, though, proved a foe for the scrawny teenager. He walked out of classes without an explanation and only participated in one class: chorus, taught by a beloved teacher, Mrs. Huffaker. Michael's attitude toward school and his mother continued to worsen, especially when Bette married food salesman Robert Graham. Michael, in apparent disapproval of the marriage, stole the family car and drove to Los Angeles for the weekend. Upon his return, Bette decided that her son needed major disciplining. She took him out of high school and enlisted him in the army. Apparently, though, even the army didn't have a place for Michael Nesmith, who tipped over a general's airplane while cleaning it and was promptly discharged.

Returning just a little dejected and forlorn to Houston, Mike earned his GED and took up at San Antonio College, which also counted 19 year-old Phyllis Barbour as one of its students. The two became friends instantaneously and as romance blossomed, Michael proposed marriage to a bewildered Phyllis. She refused, but later, upon the discovery that she was pregnant, accepted. The two dropped out of college and married on June 12, 1964. Days after the wedding they left for Los Angeles, for Michael to pursue his folk-rock career. As Michael began to make a name for himself at the famous Troubador club, Phyllis became the consummate housewife, maintaining the couple's small aparentment behind the Hollywood Bowl. On January 31, 1965, she gave birth to a son, Christian DuVal Nesmith. By November 1965, Christian's father had become a Monkee.

The ending of the Monkees brought both great luck and horrible misfortune to Michael Nesmith. His young family -- which by now included two other children: Jonathan Darby, born February 8, 1968; and Jessica Buffler, born September 10, 1970 -- moved into a small house Michael had originally purchased for his chaffeur after the family had been kicked out of their multimillion dollar mansion. The hard financial times were accentuated by positive, though, as Michael began his First National Band. They scored a hit in 1970 with "Joanne," but financial success continually escaped them. After releasing a trio of commercially unsuccessful albums, they broke up. Apparently unwilling to give up on his music, Mike formed the self-serving Second National Band, which released the rather tedious Tantamount to Treason. Michael's solo career kicked off in 1973 -- a turning point year for the singer/songwriter. He and Phyllis' often fiery relationship took a definite turn for the worse in '73, and Michael ended up filing for divorce the following year, citing irreconcilable differences. Phyllis recieved custody of their three children, but Michael had partial visitation. The couple's inevitable breakup was no doubt sped up by Michael's 1968 affair with photographer Nurit Wilde, which produced a child, Jason.

A single man once again, Michael began dating. He eventually found a partner in Kathryn Marie Bild, and they married in early 1976. Kathryn began helping Michael reorganize his fledgling Pacific Arts video company. In 1981, while still releasing records and albums, Michael presented Elephant Parts, the first long-form music video ever. In 1982, the ground-breaking video earned him a Grammy. But the pressure of Pacific Arts and Kathryn's increasingly erratic behaviour drove the Nesmith-Bild union apart. In 1982, they divorced. Michael later found companionship with Victoria Kennedy, who has been dating since the 1980s.

The '90s found Michael venturing into several projects. He continued directing movies and worked continually on a script for Douglas Adams' Hitchhiker's Guide to the Galaxy. He focused mainly on writing, though. In 1998, his first book, The Long Sandy Hair of Neftoon Zamora, met with lukewarm reviews. Nez is currently writing a second novel, The American Gene, and directing the film Fried Pies. He has not appeared on any dates of the recent Monkee reunion tour.